What are the 4 Important Tree Services Provided by Professional Firms?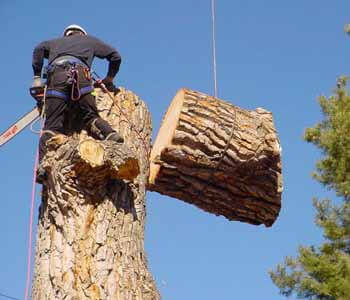 Trees certainly play an important role in improving greenery around your house. However, on your part it will be necessary for you to maintain them in good condition and ensure that trees in your yard are not facing any problems. To accomplish this task you will have to appoint a professional tree service provider so that all tasks related to proper maintenance and care of your trees can be handled in best possible manner.
In this context we will go through some of the common tree services provided by these firms, emphasizing importance of hiring one to take care of your trees.
An Overview of Common Tree Services Provided by Professional Firms
Tree Trimming | Tree Removal | Stump Removal | Emergency Tree Services
It is necessary to regularly trim and prune trees. Let us go through some of the main reasons which highlight importance of regular tree trimming.
Aesthetic Appeal: Pruning or trimming is an effective way of maintaining tree's shape and appearance.
Maintain Health: Such pruning or trimming is also helpful in maintaining tree's health. As for instance, saving any diseased tree becomes possible with strategic pruning of affected branches and limbs.
Strength and Safety: Proper trimming also makes sure that the tree will be able to survive high winds during a storm.
Experienced professionals ensure that all the branches are carrying optimal weight and there is no risk that the branches would break off.
Experts are also well aware of the fact that overdoing trimming can cause accidental damages and unnatural shape. As such, they utilize their experience and knowledge to perform trimming up to a fixed level.
There can be several reasons ranging from a diseased tree to a dead tree, which would make tree removal a necessity. In such situation you will have to contact a tree service firm so that the tree can be safely removed from your property.
Experts can judge severity of the problem and take necessary steps to ensure that the tree is removed with causing any kind of damage.
After a tree is removed, if stump of such tree is not removed then it can create serious problems. As for example, your kids will face risk of a fall and lawn care equipment can also get damaged.
From perspective of landscaping also an old stump will spoil aesthetic appeal of your lawn. Moreover, such stump can result in fresh tree growth and take away nutrients from nearby plants.
Additionally, in case tree stumps have started decaying then they will be attracting insects such as ants, termites and other pests, which may eventually reach your home.
Tree service providers can take up the responsibility of removal of these stumps and can also grind such stumps down so that anyone can hardly figure out that there was a tree at that location.
During this process experts examine condition of tree trunk so that most appropriate removal technique can be selected.
Emergency Tree Service Elgin, IL
In case an emergency situation arises then you can count on experienced tree service providers to fix such problems.
As for instance, if a tree falls over your home or yard then you can count on tree removal experts to remove such tree with utmost care and such task will be completed within shortest possible time.
Above details make it quite clear that for maintaining trees in optimal condition or to remove unwanted trees you need to contact a professional team to get the job done in best possible manner.
Availability of a range of services means whatever your requirement, professionals will be able to cater to it.